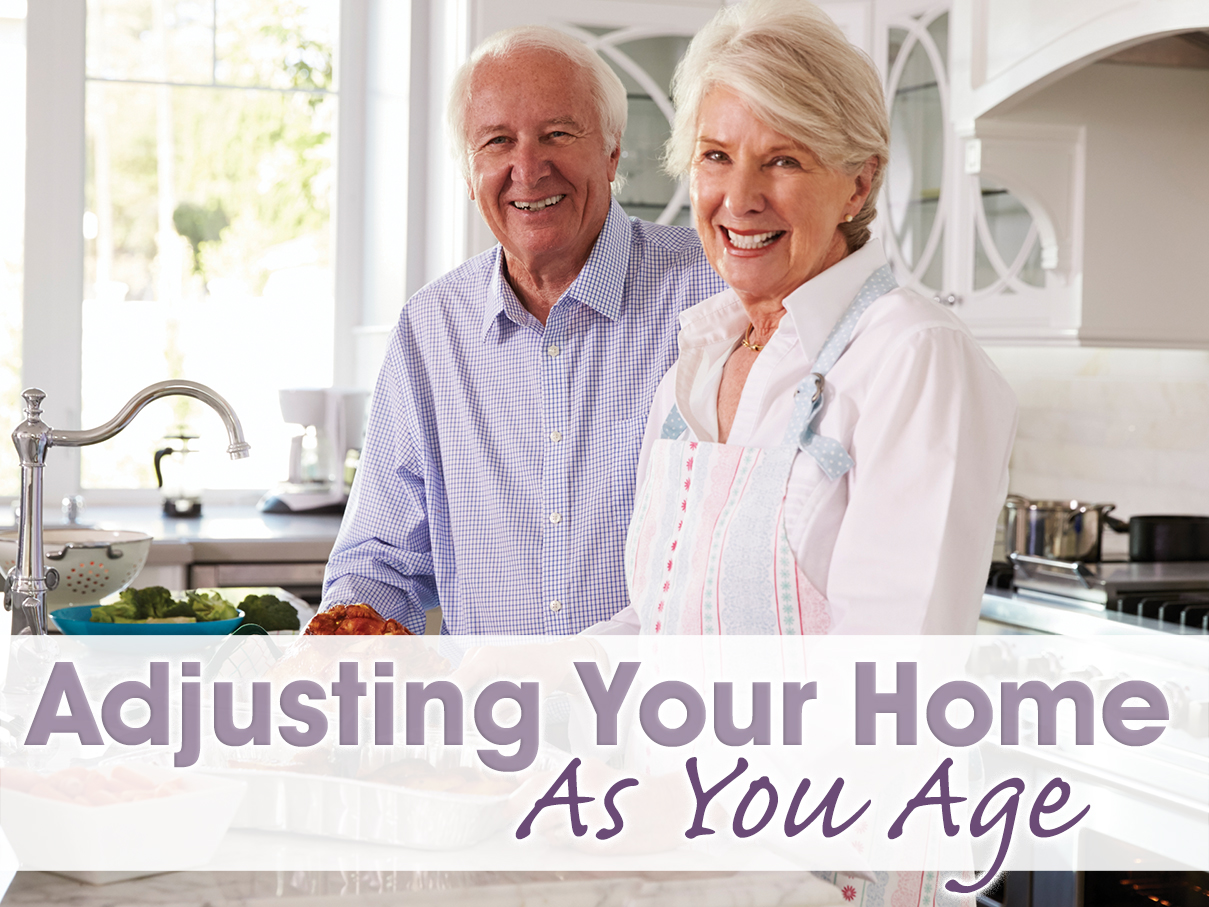 Adjusting Your Home As You Age
As we continue to age, there are many things we might alter including our skin care routine, the vitamins we take, even our fitness regime. One thing many older adults might overlook is adjusting your home as you age. As seniors continue to age but want to remain independent and live in their home, there are multiple easy changes that allow them to stay safe. Below you will find simple changes you can implement to help keep your loved one or yourself safe as you continue to live at home.
The Bathroom
The bathroom is a common place for accidents. From slipping on wet floors to tripping getting out of the bathtub, the bathroom can be a worrisome place. One solution is to install a walk-in tub. By not having to step over the ledge, you don't have to worry about tripping or having your leg cramp up mid step. Another solution is to install a bar next to the toilet. Our muscles can start to weaken as we age and unfortunately it can be tough to lower and rise after we go to the loo. Having that extra support can help while we complete everyday tasks. Another simple solution is to switch out bath mats. In your shower or tub, you want to make sure your mat is non-slip so you are safe when it gets wet.
Cooking In The Kitchen
Ahh, the kitchen.. So many smells, tasty treats and delicious meals. Unfortunately, it is also a common place for accidents. If your loved one is getting weaker or has shaky hands, you can switch their dining accessories from glass to plastic to make the situation safer. If they are moving or buying new appliances, specifically a stove-top, aim for an electric stove. As we age we tend to be more forgetful and having a gas stove that utilizes flames can lead to fires. Even if your loved one is a self-proclaimed "Iron Chef America", make sure there is a first-aid kit close as accidents such as burns and cuts can occur.
Medical Alert Systems
If your loved one is getting up in age but isn't ready to move to an assisted living facility, you can invest in a medical life alert system. These systems can be worn around their necks and if an emergency occurs, they can push the button and help will arrive. This gives them the peace of mind that they are in reach of help when it is needed, while also feeling independent.
Hazards
There are always hazards that can affect our activities and lives as we age. For example, problems with the air quality can be dangerous as immune systems in the elderly tend to be weaker. Make sure to change your air filters in your home frequently to avoid mold and bad air quality that can harm your lungs. Keeping the home clean is extremely important too. Whether you clean the home, or have someone come in to clean, always make sure it is clean as diseases and germs and always growing and trying to get individuals sick.
Floor Plans
The layout of one's home can be dangerous as we age. Although piling shoes in a corner might not seem like a problem when we are 30, it is a different story when we turn 75. Buying a shoe rack to open up hallway space and clear pathways can make a huge difference. Decluttering the home and having a garage sale can help open up your home as well if you are going to move into an assisted living facility someday; it will also give you some fun money too! If you live in a two-story home or apartment, it might be smart to move things downstairs so you are only going up and down the stairs on minimal occasions since they are potentially hazardous.
Lighting
While some individuals might suffer from cataracts, some might just have weaker eyes in general. Buying new lighting will help you see better and help you avoid accidents like tripping over unknown items. You can also buy lights and set them on timers to avoid any potential break ins to help you feel safer in your home.
Driving
While it can be hard to give up driving, sometimes the benefits of giving it up are better than the fun of driving. If you don't have to worry about the upkeep of a car, insurance, or taxes, then there is no stress on you or your family every time you go out for a spin. There are many different options like Uber, Lyft, public transportation including buses and more. Multiple assisted living facilities even have vans where they take residents out on trips.
Next Steps
When you or your loved one is aging, there are many ways to adjust the home to help all feel safe and secure. When in-home care is no longer an option, Landmark Senior Living is there to offer assisted living and memory care. If you're interested in Beverly assisted living, contact us to learn more.
---
Thank You to Our Guest Blog Writer:
Matthew Boyle, Chief Operating Officer
Landmark Senior Living
www.landmarkseniorliving.com
Author Bio:
Matthew Boyle is the Chief Operating Officer at Landmark Senior Living, a series of top rated Assisted Living Facilities in the midwestern United States. He has been working in the healthcare space for 7 years and graduated from Duke University in 2011 Summa Cum Laude. Guided by a relentless pursuit of excellence, Matthew and the team at Landmark are dedicated to creating a supportive environment for the elderly.
- - - - - - - - - - - - - - - - - - - - - - - - - - - - - - - - - - - - - - - - - - - - - - - - - - - - - - - - - - - - - - - - - - - - - - -
Alternatives for Seniors is a print and online directory that specifically caters
to the housing and personal care concerns of senior citizens and their families.
When the time comes to find Senior Housing for yourself or a loved one, turn to Alternatives for Seniors.
We offer FREE personalized assistance in finding the best senior housing option for you or your loved one.
A place that matches your interests, needs and offers the amenties that best suit you –– one that is conveniently located near your loved ones.
Call our Senior Advisors at (888) WE-ASSIST (888-932-7747).
If you are not ready to talk to an Advisor, visit the Alternatives for Seniors website to begin searching for the perfect home.
Housing options include: Senior Apartments, Independent Living, Assisted Living, Memory Care and Nursing/Rehab Centers
or explore your options such as Adult Day Centers or in-home assitance like Home Care and Hospice.
Also, be sure to join our Facebook community and follow us on Twitter and Pinterest.